take your store to new heights
All FREE Features
All the features you know and love from the free version of the plugin are included in PRO. All your settings remain in place after upgrading.
Custom Google Maps
Create custom map designs to wow your customers while making their buying experience better.
Custom Marker Icon
The default red pin is boring. Why not show customers a thunderbolt? Heck, set any custom icon you'd like!
Saved Addresses
John Doe places orders to your store while at home and at work...he hates always having to fill in the respective address. Let John save multiple addresses and quickly select the one he wants to use with this handy feature!
Shipping Cost by Region
Draw shipping regions using a Google map and set the name of the region as well as the cost to ship to that region. When a customer falls within a particular region, LPAC will automatically update the shipping method with the cost you set for that region, AMAZING!
Shipping Cost by Distance
Do you know the fuel economy of your delivery/pickup vehicle? Great! Do a little math and now you're able to charge customers a cost based on distance. Just as amazing as Shipping Cost by Region but with more fined-tuned pricing!
Shipping Cost by Distance Range
0-10 km, 10-25 km ... ... Create ranges and set the shipping price based on the customer's distance away from the origin point such as your main store.
Shipping Cost by Store Distance
Multiple store locations? No problem. Nice to know your business is growing. Go further with Distance pricing by setting the shipping cost based on the customer's distance from the store they select on the checkout page.
Shipping Cost by Store Location
Don't need such fine-tuned pricing? That's fine. You can set a flat rate for shipping from each store in your growing empire. The final shipping cost will be the one set for the store that the customer selects on the checkout page.
Export Order Locations
Do you have a set delivery date and time for orders? Use this feature to export your orders with useful information such as customer location, name, phone number and more.
Restrict Places Autocomplete
Fun fact, there are 16593 "High Street" in the world! Improve your customers checkout experience by restricting the Places Autocomplete results to addresses from your country or a list of countries.
More Visibility Rules
In addition to all the great visibility rules available from the free version, in PRO you can Show/Hide the checkout map based on Shipping Zone and Cart Subtotals.
This plugin is a really good plugin especially for restaurants and on-demand business. Thanks to the Developer, please keep it up.
We tried this plugin in one of our client's website and found that it is very useful for the customers to share the delivery location. Now we are using this plugin in all our e-commerce websites. I like the level of customisation that can be done through Woocommerce settings page. Thanks Victor for developing such a wonderful plugin for WP.
I tried the few other similar plugins on the market, but can only find what I'm looking for in this one. It works superb and does what it advertises. I use it to build a website for home delivering locally grown grains and vegetables. I needed support for some technical issues, but the assistance was truly sublime. Very fast and caring. I bought the PRO version and can't recommend it highly enough.
Very great plugin, works smoothly and as expected! Hope the developer continues in developing it even more.
The plugin works exactly as advertised. I tried other paid plugins and none worked as well as this free one. I also got support from them and they helped me with my questions. Great service! Keep up the good work!
Easy and simple and solve us the problem of determining the location, and when a small bug happened we contacted them and the issue was resolved quickly in less than half a day. I recommend using this plugin.
Plugin, and Support is very good, they reply fast and the Plugin works very well. Was easy to install and clean. will be installing on all my websites.
Thanks for your contribution, it has been great and it works very well, you are a crack as a programmer, thank you very much.
Precise customer locations
Quick order details
Map Visibility Rules
Shipping Workflows
Export Orders
Custom Maps
Store Locations
Saved Addresses
WooCommerce Map Builder
Precise customer locations
Let customers select their exact location using the map added to the WooCommerce checkout page. The selected location is displayed on the order received/thank-you pages as well as the admin order page.
Checkout Page Map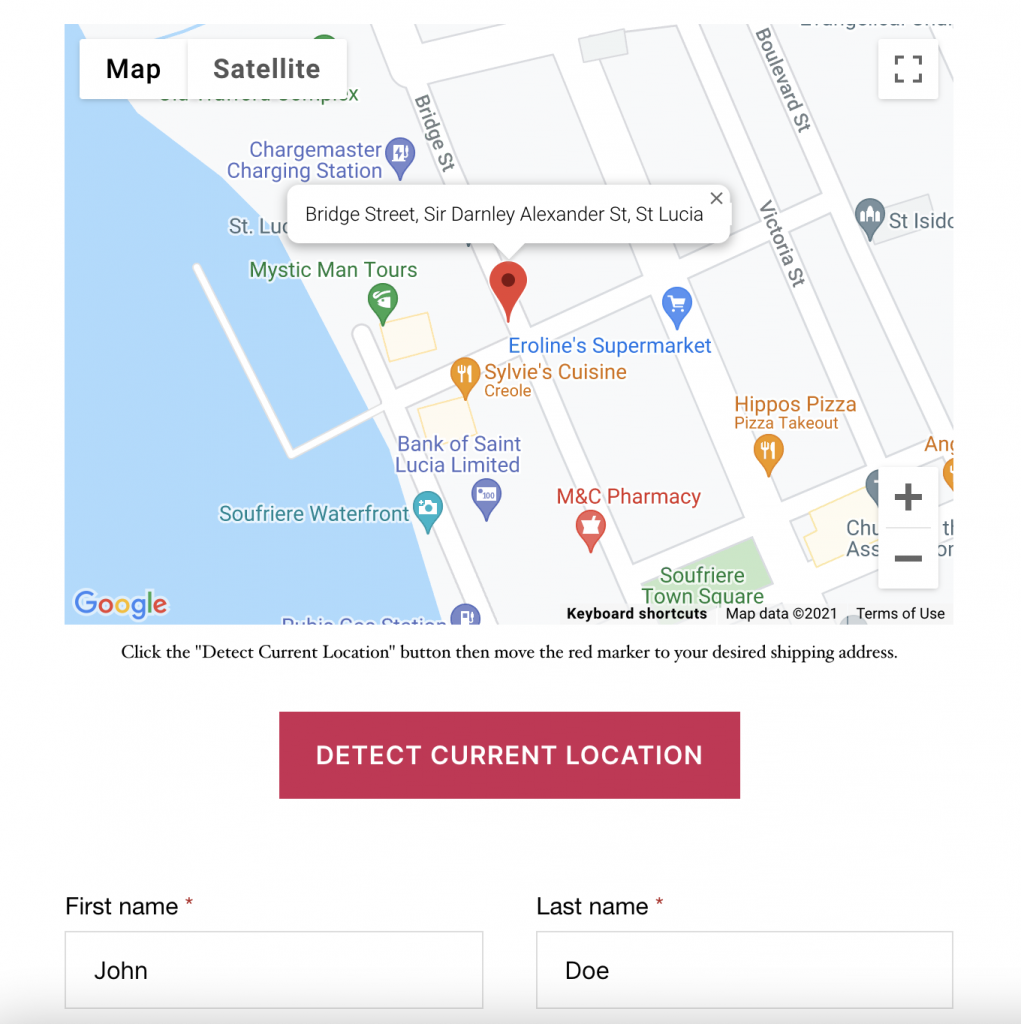 Quick order details
Map Visibility Rules
Shipping Workflows
Export Orders
Custom Maps
Store Locations
Saved Addresses
WooCommerce Map Builder
All plans come with a 30-Day Money Back Gaurantee*
Save BIG when you bundle Kikote + Delivery & Pickup Scheduling for WooCommerce
The best Location Picker & Google Maps Autofill plugin for WooCommerce.