5 Best ChatGPT and AI WordPress Plugins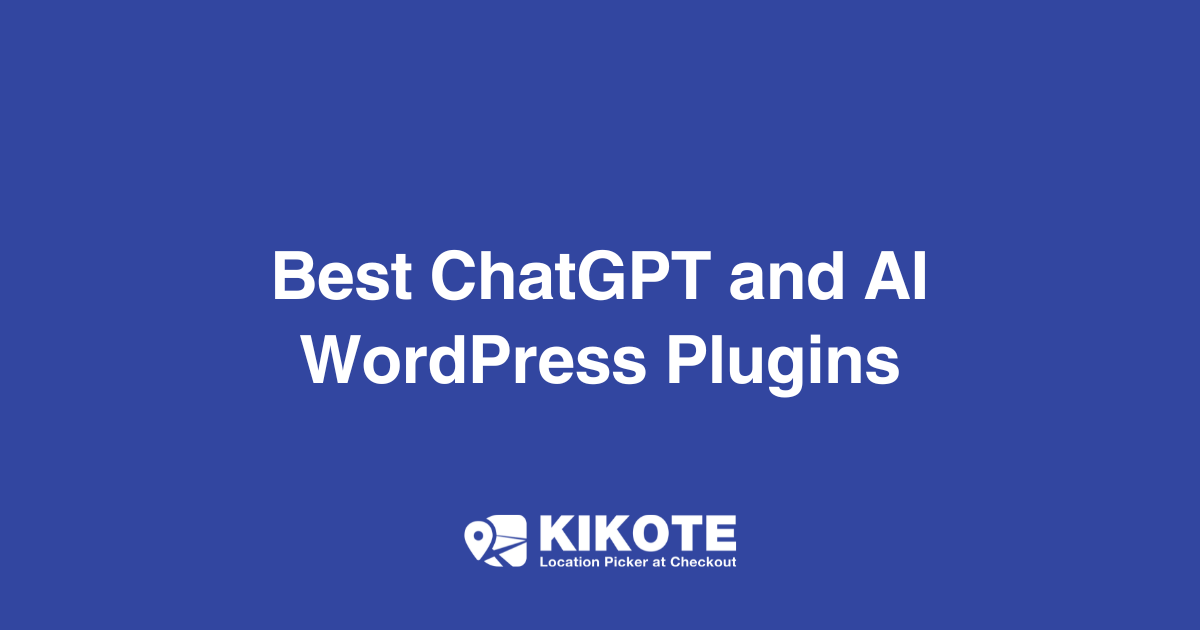 In today's digital landscape, user engagement and interaction have become key factors for the success of any online platform. Website owners constantly seek innovative ways to enhance the user experience and establish meaningful connections with their visitors. This is where ChatGPT technology and its integration with WordPress websites have emerged as a game-changer.
ChatGPT, powered by advanced artificial intelligence, offers an intelligent and interactive conversational experience that mimics human-like interactions. By seamlessly integrating ChatGPT into WordPress, website owners can leverage the power of this technology to engage their visitors, provide real-time assistance, and create personalized experiences.
To help you navigate the abundance of options available, we have curated a list of the six best ChatGPT and AI WordPress plugins in the market. These plugins have been carefully evaluated, considering compatibility, customization options, natural language processing capabilities, and performance.
Throughout this article, we will delve into the features, benefits, and integration capabilities of each plugin. This will help you identify the most suitable options for your needs.
By the end of this article, you can expect to have a comprehensive understanding of the top ChatGPT WordPress plugins available. You'll also gain insights on how to best integrate and customize them into your site.
Why Add a ChatGPT Open AI Plugin to WordPress?
As a WordPress site owner, you can take advantage of the popular ChatGPT software in multiple ways. As one of the most powerful AI language processing models around, you can do more than just generate human-like responses to text input. Combined with different ChatGPT WordPress plugins, you'll be able to tap into external databases, gather real-time information, and perform advanced operations.
Some benefits of utilizing ChatGPT WordPress plugins include:
Improved content quality
Boost in productivity
Third-party integration to multiple external resources
Other advanced customizable functionality
The good thing about using these plugins is that they're very user-friendly and save a lot of time. Each of the plugins we'll be showing you in this article has an intuitive interface and streamlined setup processes making them accessible even to complete WordPress newbies. You can also cut the time required for routine operations like blog writing and form creation significantly.
The versatility of ChatGPT WordPress plugins opens doors to an array of captivating use cases that elevate your website's capabilities. Here are a few:
Smart form creation: A ChatGPT-powered form transforms generic form interactions into intuitive conversations. You can easily guide users through complex forms, offering assistance and clarity as they input information.
Content generation: Seamlessly integrate ChatGPT with your content creation process. It can brainstorm ideas, provide suggestions, and even draft content, revolutionizing your creative workflow.
Search Engine Optimization (SEO): You can also use some help with analyzing keywords, suggesting optimized content, and enhancing your website's search engine visibility.
Customer support: Elevate customer support with an AI-powered chatbot. ChatGPT can handle inquiries, troubleshoot issues, and provide instant solutions, enhancing user satisfaction.
General automation: Automate routine tasks and processes by allowing ChatGPT to interact with other applications and services, streamlining your operations.
With that out of the way, let's take a deep dive into our top 5 ChatGPT WordPress plugin picks.
Let's kick things off with a WordPress ChatGPT plugin that supports a wide range of the language model's features. Want to add advanced AI features like a conversational chatbot, text and image generation, and SEO features? Then AI Engine is the way to go. It's powered by the three latest ChatGPT models: GPT-3, GPT-4, and GPT-4 32k models. You also get access to other AI models as well.
One of the striking features is the ability to configure a site-wide chatbot within your WordPress dashboard. You can choose between a chat mode and an images mode, add a shortcode to extend the chat capabilities, or even select an "iOS Messages" theme. Based on your needs, the plugin allows you to launch the chatbot in fullscreen, popup, or window mode. You'll need to get an OpenAI key to make this work.
Beyond creating an AI chatbot for your WordPress site, other powerful features and use cases include:
Content generation. AI Engine is also one of the best ChatGPT AI plugins for editing content, creating fresh content, brainstorming ideas, and even producing bulk text and images. With AI Copilot and Playground, grammar edits, language translations, and synonym search is completely seamless. This can be a game-changer for populating SEO titles, excerpts, and WooCommerce product description fields,
Template creation. Do you have lots of repetitive, time-consuming tasks? This ChatGPT WordPress plugin will help you streamline and automate your workflow with flexible and reusable templates.
AI model training. Finetune your AI with embeddings to better understand your target audience and perform better on specific tasks.
Internal API and analytics. With its internal API, AI Engine allows you to plug in other tools across your WordPress ecosystem. And you can monitor your usage with built-in statistics.
AI Engine runs a freemium model with premium plans starting at $49 annually for one website.
Another free plugin with similar features is AI Power. The ChatGPT OpenAI plugin is also very good at content and image generation. The cool thing is you can automatically generate blog content in bulk. This allows you to create multiple articles and populate your content calendar in a few minutes. Unfortunately, this feature is only available in the Pro version.
The tool also includes SEO, WooCommerce product description writing, AI assistant, AI training, and Playground features. But the main feature you should look out for is AI Forms. This means you'll be able to design and embed different interactive form types and templates all fully powered by AI into your website. You'll then be able to display these forms in different parts of your website using shortcodes.
Other interesting features include:

Speech to Post and Text to Speech
Image library support including Pexels and Pixabay
Third-party SEO integration (Yoast SEO, All in One SEO, and Rank Math)
Multilingual support (up to 40 languages)
Bulk Editor with support for CSV file upload
AI-powered semantic search
AI Power is arguably the most feature-packed tool on this list. And the paid plans start from $8 monthly.
One other interesting approach to integrating ChatGPT OpenAI features into your WordPress site is to use an automation plugin. For this, we'll highly recommend Uncanny Automator. The plugin is a full-fledged automation tool specially created for WordPress sites. More like Zapier for WordPress. And one of its numerous integrations is OpenAI.
This ChatGPT WordPress plugin works based on triggers and follow-up actions. In other words, it allows you to complete AI-powered actions that are triggered by other WordPress plugins or even the WordPress core. For example, you can create an AI-generated blog post (or MemberPress course) each time a WPForms form is submitted or even configure a WhatsApp chatbot that replies to user messages with ChatGPT responses.
Some of the popular ChatGPT actions you can complete include:
Image generation
Text generation and translation
Social (Instagram and Twitter) post creation
SEO title and meta description creation
Text sentiment detection
Uncanny has a free version with pricing plans that start from $149/year. Significantly pricier than other plugins on this list.
Bertha AI is one of the most popular AI content-generation tools that's been around for a while now. Compared to the other tools on this list, the major advantage of using Bertha AI is in the accuracy and depth of the content generated. The plugin is based on OpenAI's GPT-3 language model.
One outstanding feature that makes Bertha AI worth conjuring is Bertha Art. This module allows you to create convincing images for your site by simply entering the image descriptions. It also uses previously searched image prompts to deliver better results. These images can be used for your website and marketing copies. Even better, it integrates seamlessly with page builders like Gutenberg, Elementor, Beaver Builder, and Divi Theme Builder.
Key features include:
AI blog article writer (generate topic ideas, post outlines, intro, conclusions, paragraphs, etc.)
SEO copy generator (keyword suggestions, title and description tags, etc.)
Bulk WooCommerce product editor and copywriter
Freemium plans start from $20 monthly for unlimited users and websites.
Our last pick for this list of the top ChatGPT WordPress plugins is for WordPress developers. One of the elements of ChatGPT that created such a buzz was its ability to write code. CodeWP is a great ChatGPT solution for both advanced and newbie WordPress coders.
The tool's essentially an AI code generator that's been tailored specifically for the WordPress platform. It offers truly robust features for optimizing your WordPress coding workflow. Unlike every tool on this list, CodeWP is technically not a plugin. It's a standalone code generator or editor that allows you to export code snippets from within your browser. It works with the free Code Snippets plugin. You can also export the code as a JSON or PHP file.
Here are a few features you get to enjoy:

Multiple code generation modes for PHP, WooCommerce, Elementor, etc using a simple prompt
Seamless save, export, and share functionality
Multilingual support
The tool has a free plan that supports 10 code generations per month. Paid pricing plans start from $12 per month with unlimited generations and snippet explainer features.