Best WooCommerce Payment Gateways for WordPress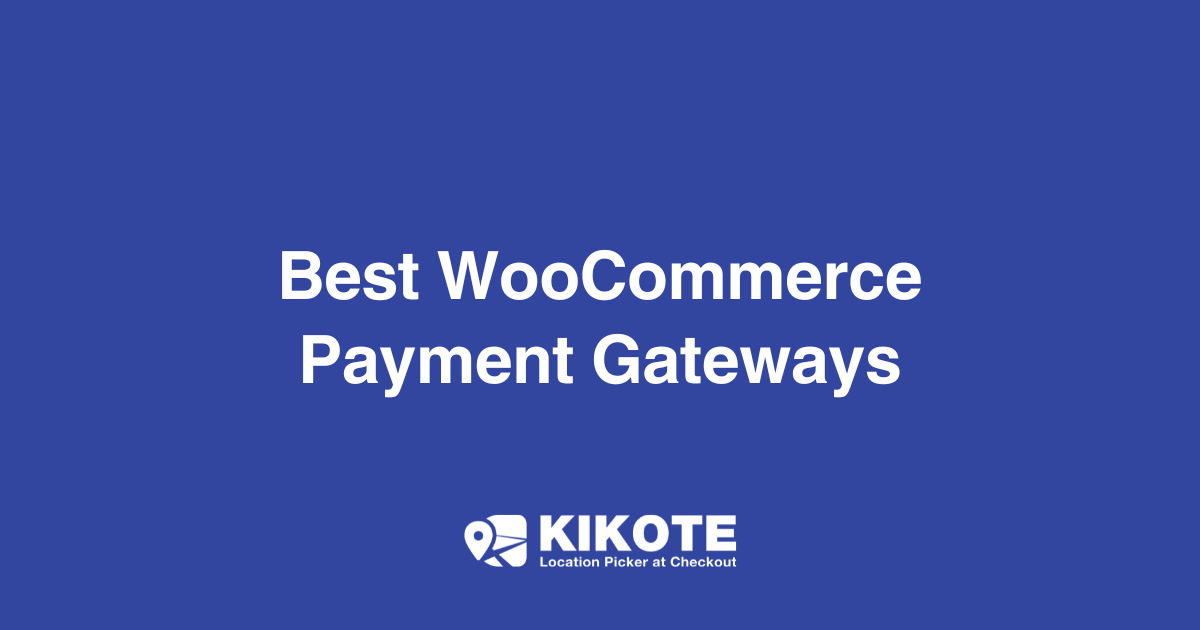 WooCommerce is one of the most popular solutions for building an E-Commerce website today. WooCommerce is a WordPress E-Commerce software that allows both technical and non-technical business owners to build and maintain an E-Commerce store.
One of the most important aspects of running an E-Commerce business is making sales and to do that, your customers must be able to pay you, this means you need a payment secured and convenient for your customers.
Choosing the right WooCommerce payment gateway for your business is very important as it can make or mar the progress of your business. If your chosen WooCommerce payment method is too cumbersome and difficult to use, your customers will find it hard to pay you and this can harm your business reputation and revenue.
In this article, we will cover the best WooCommerce payment gateways for your online store and also offer some insights to help you choose the right payment method for your business.
Features to consider when choosing a WooCommerce payment gateway
Before you go ahead to integrate that payment gateway, there are some features that you need to consider so that you can make the right choice for your business needs. Below are some of the key factors you should consider before choosing a payment method for your WooCommerce store.
Availability in your target market
The first thing you should check when choosing a payment gateway is the availability of the payment provider in your target market.
You need to choose a payment provider that is available in your country and also in your customers' country. If your chosen WooCommerce payment gateway does not support some countries in your target market, then your customers in these countries will not be able to pay you and you will be losing sales and revenue.
For example, if your target market is South America, then you need to look for a payment provider that supports this region and is widely accepted. You can easily find this information on most payment provider's websites, you will usually find it under the "Supported Countries" section or page.
If your country or target market region is not included in their list of supported countries, kindly move on and choose another payment gateway.
Transaction Fees and Commissions 
Another crucial factor in choosing a WooCommerce payment gateway is fees. Each payment gateway has its own fees and commission structures and you must check and be aware of their various charges before you integrate them.
Most payment gateways charge a percentage while some providers charge a monthly fee to use their services. Ensure you check so that you don't run into any surprises.
Customer Service and Reputation 
It is very important to do some research about the reputation of your chosen payment gateway. Spend some time online to read reviews and public comments about their services to be sure that they are reliable and trustworthy.
You should take note of comments about their customer service because, at some point, you will need to contact their customer support to resolve issues for your customers. So make sure your payment gateway of choice has responsive customer support.
Multiple payment options and solutions 
A WooCommerce payment gateway with multiple payment options and payment solutions can bring a great boost to your business and revenue.
For example, if you run a business that offers subscription-based products such as online courses, then you may want to look for a payment method that supports recurring payments so that your customers do not have to manually renew their subscriptions all the time.
You should also check if the payment gateway supports other payment options such as Apple Pay, PayPal, Bank transfer and so on in addition to credit or debit card payments.
That said, now let's take a look at some of the best WooCommerce payment gateways for your WordPress store.
Top WooCommerce Payment Gateways for WordPress
WooCommerce payment gateways come in the form of extensions for WooCommerce. These extensions are WordPress plugins that you can install on your website and they integrate various payment services into your WooCommerce store.
There are numerous WooCommerce payment gateways available out there but we will be looking at some of the most popular and trusted payment providers from around the world. 
PayPal 
PayPal is unarguably one of the oldest and most popular payment gateways for E-Commerce stores.
PayPal is easy to set up and quite popular among online shoppers, it is available in a dozen countries, mostly in Europe and the Americas.
Before you choose PayPal as your WooCommerce payment gateway, it is important that you confirm its availability in your country and also in each country of your target market as PayPal has different rules and restrictions for each country they support.
The PayPal Payments extension for WooCommerce provides an easy way to integrate PayPal into your WooCommerce store. It allows you to offer PayPal, Venmo and Pay Later in addition to the usual credit and debit card payment options. 
With the PayPal Pay Later option, your customers can buy items now and pay later to PayPal while you still get paid right away.
PayPal fees are based on your account type and the volume of sales you pull. So make sure you review their fee structure carefully as it has a significant impact on your business and revenue. 
Stripe 
Stripe is the most popular payment gateway for accepting credit card payments online and many business owners see Stripe as a worthy alternative to PayPal.
You can integrate Stripe by installing any of the free Stripe plugin which will allow you to select Stripe as a payment method from the WooCommerce settings page and you can start accepting credit and debit card payments on your online store. Stripe also allows your customers to pay using Apple Pay, Alipay and Google Pay, this allows you to cater to a wider market where these payment methods are dominant.
Stripe supports recurring payments and this will be useful if you sell subscription-based products with WooCommerce. Its recurring payment feature can be used with most WordPress/WooCommerce subscriptions or WordPress/WooCommerce membership plugins.
It also provides a fast checkout and user-friendly interface giving your customers a seamless checkout experience while you enjoy less cart abandonment and good conversion rates.
Stripe is available in over 135+ currencies and it is supported in 45+ countries. Stripe does not have any setup or annual fees, but they do charge a 2.9% + 30 cents fee per transaction.
There are a bunch of Stripe WooCommerce extensions out there, but if you would love to have some extra features like express checkout via Apple Pay and more, then you will need to use the free Stripe Payment Gateway for Woocommerce plugin which provides more features and customizations. 
Authorize.Net 
Authorize.net is yet another popular payment gateway used by thousands of merchants and businesses across the United States, Canada, United Kingdom, Europe and Australia.
Authorize.net is a payment gateway subsidiary of the payment giant Visa. It was built and runs primarily on the Visa payment infrastructure which makes it a reliable ally for receiving payments from your customers.
The Authorize.net extension for WooCommerce allows you to easily integrate it into your WooCommerce store. This extension provides a seamless checkout process for your customers using credit and debit cards. It also supports receiving payments for WooCommerce subscriptions and pre-orders if needed. 
Authorize.net payment gateway is user friendly and it allows your customers to save their credit card and payment details for faster checkout without leaving your website. 
Paystack
Paystack is one of the most popular and reliable WooCommerce payment gateways for Africa. If your business is located in Africa or sells to the African market, especially in Nigeria, Kenya, Ghana and South Africa, then you should strongly consider using Paystack as your payment gateway.
With Paystack, you can accept payments from various global and local payment options such as credit and debit cards, mobile money, bank transfers, USSD and more.
Paystack offers a clean user interface and fast checkout process with multiple payment options for your customers. It ensures that your African customers can pay you with ease, resulting in a higher conversion rate for your business.
The Paystack extension for WooCommerce provides a simple way to integrate Paystack into your WooCommerce store. It supports recurring payments using the WooCommerce subscriptions plugin and it also allows you to process refunds directly from the WooCommerce order details page. 
Square 
Square is a versatile payment gateway for WooCommerce stores, it is a perfect choice for online stores with physical outlets, delivery and other selling options. Square will automatically sync payments and inventory between your WooCommerce online store and your physical outlets.
For example, if you own a WooCommerce Food Ordering Website, you can use Square to accept payments for your online orders and also use it at your Physical locations for walk-in customers. Square provides terminals and credit card readers for physical locations while allowing you to accept credit card payments on your online store.
Square is available in the US, Canada, Australia, Japan and the UK. The charged transaction fee varies for each country, so be sure to check the exact fee for your country.
The WooCommerce Square extension allows you to easily integrate it into your WooCommerce store and sync products between your website and your Square account. You can also add products to your Square accounts and they will be automatically added to your WooCommerce store. 
In addition, Square supports recurring payments with the WooCommerce subscription plugin. This is particularly useful to businesses that offer subscription-based products to their customers.
Which WooCommerce Payment Gateway Should You Choose?
Deciding on which is the best WooCommerce payment gateway for your store can be challenging, but we believe the best WooCommerce payment method should be the one that is available in your target market, provides you with the best transaction fees, has a responsive customer support and offers a good checkout experience for your customers.
By considering these factors, we would recommend Stripe and Paystack depending on your location and target region.
If your target market is the US and Europe, then Stripe is the best payment gateway for your WooCommerce store. It provides a seamless checkout experience and competitive transaction fees and it is available in most countries covered by the other payment gateways mentioned here.
If your target market includes Africa or your business is based in Africa, then the best WooCommerce payment gateway for your store will be Paystack. Paystack provides a good checkout experience with multiple payment options for various African countries and they offer competitive transaction fees.
On the other hand, both PayPal and Authorize.net offer similar features as Stripe but both of them are not as easy to use and do not provide a better checkout experience when compared with Stripe.
However, most WooCommerce store owners often integrate multiple payment gateways in their stores allowing their users to choose their preferred mode of payment at checkout. This should be the way to go if a single payment gateway cannot cater for your payment needs; you can combine two or more of these WooCommerce payment gateways on your WordPress store.