Best WooCommerce Restaurant & Food Ordering Plugins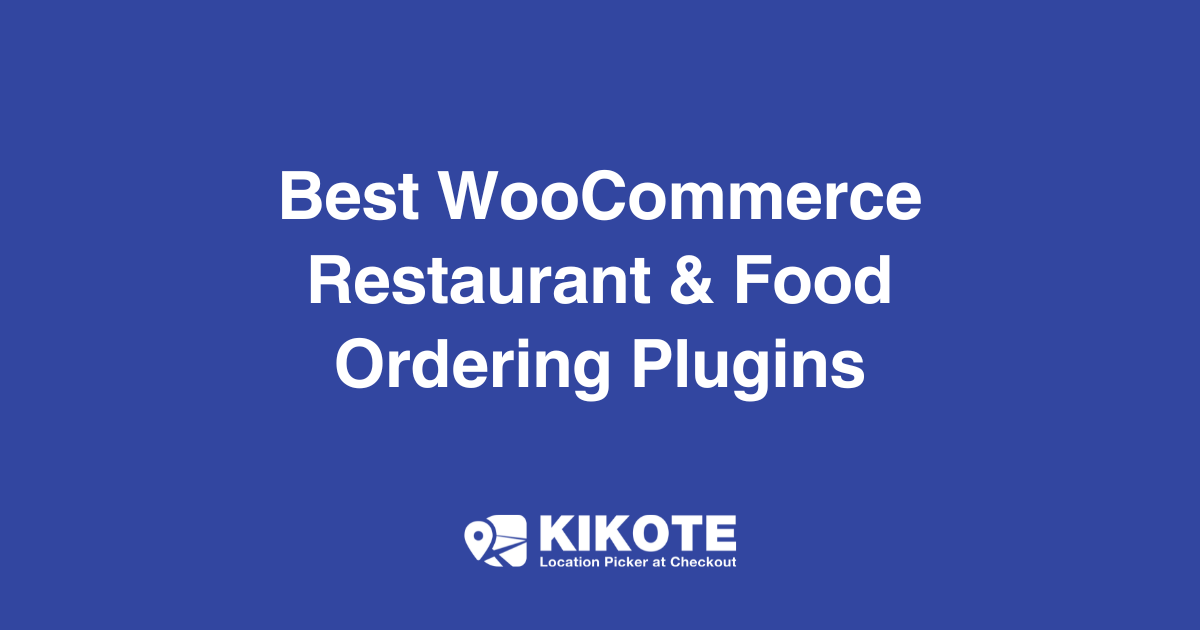 Are you looking for the best WooCommerce Restaurant and Food Ordering Plugins?
Online food ordering and delivery has been on the rise globally, the global food delivery economy is worth over $150 billion and it's not showing any signs of slowing down.
These days, more people are connected to the internet and everything is available online including food; technology has brought about an improvement in how people get food into their bellies. With a few clicks of the button, you can now order your favourite meals and get them delivered to your doorstep.
If you are a restaurant owner, getting your restaurant business online can help you to increase your sales, reach new customers and grow your brands. When it comes to getting your restaurant business online, WordPress and WooCommerce offer the perfect solution for achieving that, WooCommerce gives you the flexibility and all the tools to build a food ordering website.
In this article, we will look at the best restaurant and food delivery plugins for your WordPress site. These plugins will help you to build a WooCommerce restaurant website with food ordering functionality that your customers will love. 
What is a WordPress Restaurant Plugin?
A WordPress restaurant plugin is a software that provides all the features and tools to add restaurant functionality to your WordPress site. It allows you to integrate the various features required to run and manage an online restaurant or food business.
With a restaurant plugin, your customers can view menus, select their desired foods and drinks, place orders, track orders and even make payments online. A restaurant plugin allows you to integrate all of these features and more into your WordPress site without coding or much technical skills.
That said, let us now take a look at the Best Restaurant and Food Ordering plugins that you can integrate into your WooCommerce site today.
Best WooCommerce Restaurant & Food Delivery Plugins
In this section, we will look at all the restaurant and food delivery plugins that we have handpicked for you. These plugins will help you build a robust WooCommerce restaurant website and make food ordering seamless on your WooCommerce website.
Most of the plugins listed here have unique features and functionality, therefore, you can combine two or more of these plugins to achieve the desired results for your food ordering website.
Kikote is a location picker at checkout plugin for WooCommerce, it allows you to add a flexible and more precise location picker to your WooCommerce checkout page.
Kikote will add a Google map to your WooCommerce checkout page. It can automatically detect your customer's location and it also allows them to manually select their precise location on the map.
Kikote is meant to help you reduce delivery hassles by making it easy to get a more precise delivery location from your customers, this will greatly improve your delivery times by ensuring that your delivery agents are delivering to the right address.
Key features of Kikote:
Detect the current location of the customer at checkout
Allows customers to change and pick their exact location on Google Maps
WooCommerce Address Book allows customers to save multiple addresses to order from
Customize the look and feel of the checkout page map.
Show or hide the map based on various checkout page rules.
Autofill shipping and billing address
Calculate the customer's shipping cost by distance, region, range and more.
Kikote pricing: Free, with the Pro version starting at $39.99 per year.
  
WooCommerce Fast Cart can be a great addition to your WordPress restaurant website. WooCommerce Fast Cart helps you to speed up your customers' checkout process by providing an easy way to view, edit, and check their ordered foods without leaving the menu or ordering page.
WooCommerce Fast Cart will add a side cart or checkout modal to the side of the website so that customers can view and manage their cart with a single click on all pages of your restaurant website. This plugin can help to improve your customer experience, reduce abandoned orders and increase your sales.
Key features of WooCommerce Fast Cart:
Customizable cart buttons and display settings
Mobile responsiveness
Supports Ajax and normal Add to cart
Supports upsells and cross-selling
Integrates with payment gateways
WooCommerce Fast Cart Pricing: Free, with the Pro version starting at $89 per year.
 
Printus is a cloud printing plugin that enables you to automatically print WooCommerce PDF invoices, order receipts, delivery notes, packing slips and more to any printer anywhere in the world.
Printus is a perfect solution for saving time and improving your business processes. You can configure it to print based on various triggers such as checkout complete, payment complete, or order complete and you can even add your custom triggers.
With Printus, you don't need to keep monitoring your emails for new orders, you can simply set it up and it will automatically print orders immediately after a customer places an order.
Key features of Printus:
Works with any printer
Automatic order printing
Multiple triggers and custom triggers
No hardware dependencies and no special equipment
High customizable
Printus Pricing: Free.
  
Food Menu is a restaurant plugin that can be used in your pages, posts and widget areas. It allows you to create food menus on your website with options to display all items, single categories or multiple categories.
Food Menu also supports shortcode and comes with a shortcode generator for building and customizing your menu shortcode. You can build food menus and embed them on any page of your WordPress site using the Food Menu shortcodes.
Food Menu allows you to customize your menu extensively, you can enable and disable menu images, change image sizes, customize menu fields and content, change menu colours and more. It gives you absolute control over your restaurant website menus.
Key features of Food Menu:
Mobile responsive design
Supports variable pricing
Supports shortcodes
Create a custom menu detail page
Display food items based on filters
Integrates perfectly with WooCommerce
Food Menu pricing: Free, with the Pro version starting at $24 per year.
  
Delivery and Pickup Scheduling is a date and time picker plugin for WooCommerce that enables restaurant website owners to add a delivery/pickup date and time picker to their checkout page so that customers can choose a precise date and time to get their food delivered or picked up.
Delivery and Pickup Scheduling is a two-in-one solution for a WooCommerce restaurant site, it allows your customers to either pick up their food or schedule a delivery so that you can deliver to them.
This plugin also enables you to specify the days and times you offer deliveries or pickups, this is quite useful for a restaurant that has strict delivery or pickup times.
The good thing about Delivery and Pickup Scheduling is that it can be combined with other plugins on this list such as Kikote and Food Menu plugin to build a more robust restaurant website. We highly recommend this plugin for streamlining and optimizing your restaurant deliveries.
Key features of Delivery and Pickup Scheduling:
Carters to both pickups and delivery orders
Provides order reminders for customers
Highly customizable to suit your needs
Delivery/Pickup capacity restrictions
Set off days
View fulfilment details from the WooCommerce order details page
Delivery and Pickup Scheduling Pricing: Free, with the Pro version starting at $29.99 per year.
Food Store is another WooCommerce online delivery plugin that integrates seamlessly with WooCommerce. It is built to extend the core functionalities of WooCommerce and WordPress to create a user-friendly WooCommerce restaurant website.
Food Store has a clean and easy-to-use interface, it has a settings panel that allows you to customize various aspects of the plugin such as colours, layout, menu styles and more.
Key features of Food Store:
WooCommerce integration works with WooCommerce settings
Menu labels (vegan or non-vegan)
Supports catalogue mode and restaurant menu mode
Responsive design
Support shortcodes
Food Store pricing: Free, with premium add-ons starting at $39.99.
Restaurant Menu is a woocommerce restaurant plugin that converts your woocommerce cart page into your menu page. It allows you to create a single-page restaurant menu on your website.
Restaurant Menu has a bunch of useful features; it allows you to sell side dishes and it also provides search functionality for your customers so they can easily find their favourite food by category or product name.
It also comes with a lot of customization options which will allow you to tweak your restaurant menu page to your liking. You can enable or disable food menu images, hide some menu categories, set minimum order items and more.
Key features of Restaurant Menu for WooCommerce:
Add side dishes to the food menu
Set a default category image for all products under the category
Supports multiple food types (vegan, non-vegan, etc.)
Supports variable products
Easy customization and flexibility
Restaurant Menu Pricing: Free, with the Pro version starting at $25 per year.
Conclusion
Online food ordering is becoming more popular by the day. As a restaurant business owner, you need to tap into this online market to grow your sales and reach new customers by providing a feature-rich website.
Building a restaurant and food ordering website does not have to be difficult, with WordPress, WooCommerce and a combination of the various plugins mentioned above, you can build a robust website for your business in a short time. Don't forget that you can combine any of these plugins to achieve your desired results, a good combination would be a combo of Kikote, Printus, WooCommerce Fast Cart and Delivery and Pickup Scheduling plugins. Give them a try and let us know what you think.