5 Tips for Improving Your WooCommerce Shipping Strategy
If you're selling physical products through an online store, shipping forms a critical component of your business's customer experience. Apart from your shipping costs and carrier options, there are many ways the shipping experience leaves a lasting impression on the buyer. This is why you need a rock-solid shipping strategy for WooCommerce.
Streamlining your WooCommerce shipping strategy should be a top priority for every WooCommerce store. It could be the difference between a satisfied customer and one who never returns.
When looking to improve your WooCommerce shipping process, you need to focus on:
Making shipping costs as low and transparent as possible
Reducing missed deliveries
Making order processing easy for you and your customers
In this article, we'll cover each of these points and more. We'll also show you the essential plugins that can enhance your shipping strategy. For example, our WooCommerce location picker, Kikote will ensure that buyers can set a precise location during checkout. This can make delivery way more seamless.
Let's get to it!
What to Consider When Setting Up Your WooCommerce Shipping Strategy
Like every component of your business, your priority when setting up your WooCommerce shipping strategy should be maximizing sales and customer satisfaction. The first thing to bear in mind is that customers have expectations each time they visit your store. To keep your store profitable, it's smart to build your strategy around these expectations.
Here are a few general considerations to keep in mind:
Prioritize customer satisfaction: As a rule of thumb, your shipping strategy should be designed with the customer in mind. Each step should be optimized to meet their needs and expectations. Interestingly, modern E-commerce shoppers' preferences are ever-changing. This is why going with a default set of options might be a bad idea. You'll need to learn more about your target audience to inform your choices. Prioritizing customer satisfaction often leads to positive reviews, repeat business, and increased revenue.
Speed is king: It also goes without saying that fast shipping has become extremely important in E-commerce. If possible, offer same-day shipping. But if this would be too expensive for either you or the customer, you should consider a relatively affordable alternative. Generally, the idea is to find a balance between speed and affordability. For some perspective, a consumer survey revealed that 44% of people are willing to wait for two days for their orders. But nobody wants to wait months, even for global shipping. You also want to give delivery time estimates upfront. But make sure not to overpromise.
Plan for special requirements: Certain WooCommerce stores sell products that require special handling. These could be fragile items, perishable foods, or medications. When setting up your shipping strategy, it's important to make arrangements that cover these factors. These arrangements should also cater to customer-specific requests, unforeseen scenarios, and cases of emergency.
Use insights from marketing and support teams: The key to fully achieving the first point mentioned is to develop a fact-based strategy. This is where you'll need to rely on your marketing and support teams for insight. By leveraging information from support tickets, customer reviews, and advertising campaigns, you'll be able to better optimize your shipping strategy to meet customer expectations.
Now, let's examine quick tips that combine these factors efficiently.
Tip 1: Consider Free Conditional Shipping
Like clockwork, free shipping is a very effective way to incentivize customers to make a purchase. To maintain profitability, it makes sense to offer free shipping for orders above a particular sum. This has become the norm in most WooCommerce stores. So, shoppers expect it. And it's also a smart way to boost your average order value.
Another way to streamline the entire shipping process is to offer conditional shipping. This means showing or restricting certain delivery methods and rates depending on various factors. For instance, you could limit free shipping to certain shipping carriers and shipping options.
Conditional shipping could also be setting specific conditions that customers must meet to qualify for free or discounted shipping. To make things even more interesting, you can make it a temporary offer.
Your free conditional shipping offer should be based on accurate calculations of your shipping costs. These costs often involve product weight and size, cost of packaging and packaging materials, and personnel. In essence, whatever offer you're giving your customers, you need to ensure it doesn't hurt your bottom line.
Tip 2: Add a Location Picker at Checkout
One major issue online shoppers and delivery drivers face rather frequently is orders delivered to the wrong address. The simple way to fix this is to integrate a location picker into your WooCommerce store's checkout page. This way, your customers can easily select a precise delivery location while completing their order.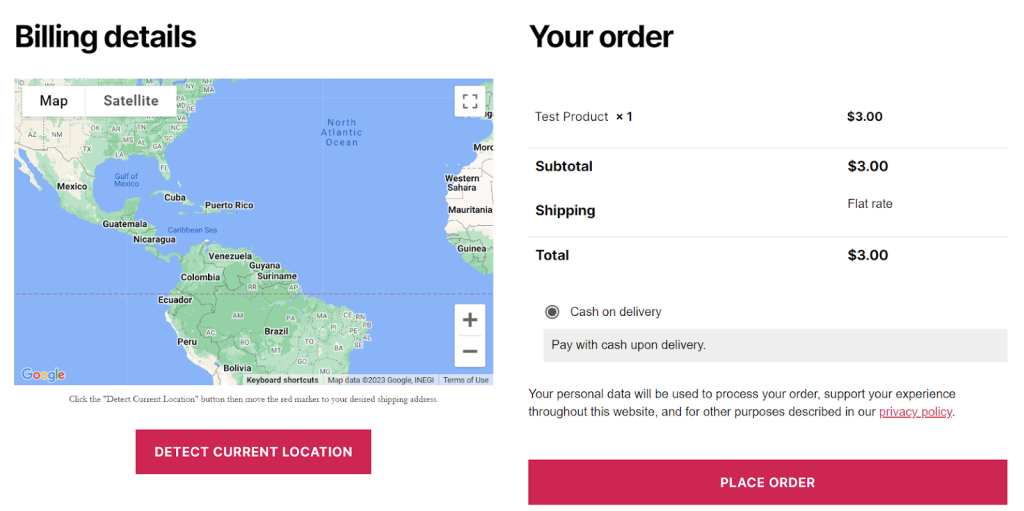 This single feature can streamline your shipping process for your delivery drivers and customers significantly. The easiest way to add it to your store is by using a plugin. If you're looking for an easy-to-use and fully functional solution for this, we highly recommend our Kikote location picker plugin.
The plugin makes it super easy for shoppers to select their delivery location on a responsive map. The map integrates seamlessly with the checkout process. It relies on the Google Maps API. This means you also get additional features like address autofill, cost-by-distance calculation, and multiple store/branch addresses.
More interestingly, you can even draw up custom shipping regions on the map. Then label these regions with names, price ranges, and background colors. This makes it easy for buyers to see the regions their address falls in and immediately know the shipping cost estimate.
This approach to collecting shipping information saves you and your customers a lot of time and money. Since you'll now have to deal with fewer returns and less hassle resulting from incorrect addresses. It also impacts delivery speed positively.
Tip 3: Offer Live Shipping Rates
Another great way to improve your WooCommerce shipping strategy is to offer your customers as much transparency as possible. You can easily achieve this by displaying live shipping rates during checkout. Shipping costs are a major factor consumers consider when shopping. And research shows that unexpected shipping costs account for 28% of cart abandonment.
Real-time shipping calculations from multiple shipping carriers reassure the buyer that they're getting good value for their money. Most of the major shipping carriers offer official extensions that you can add to your site to achieve this. A few good examples include FedEx Shipping Method, UPS Shipping Method, and USPS Shipping Method. These plugins allow your site to automatically update shipping rates each time the delivery address or products are added to the checkout page.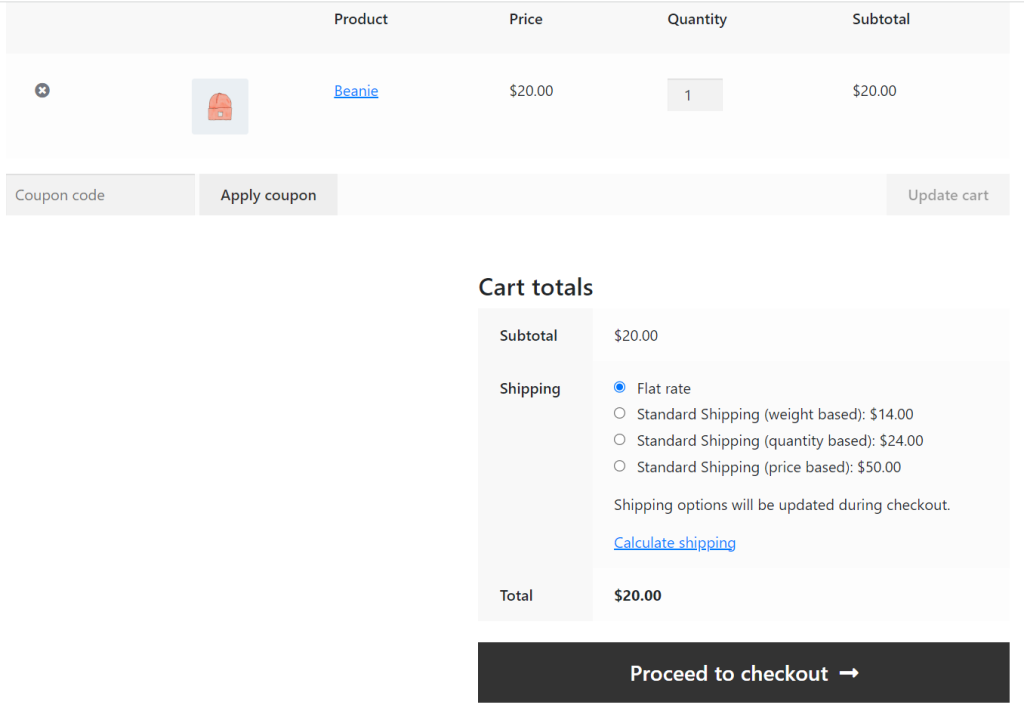 Better still, you can further reduce cart abandonment by introducing table rates. This approach to shipping involves combining a set of rules when calculating shipping rates. The shipping rules could be based on factors like shipping class, item weight, order subtotal, destination, or cart quantity. For example, you can charge $10 for shipping packages under 5kg and charge $20 for any package above that weight. The official WooCommerce Table Rate Shipping extension can come in handy here.
Tip 4: Incorporate Delivery Time and Date Scheduling
How do you deal with missed deliveries and low customer satisfaction that results from them? Simply allow your store visitors to pick delivery date and time slots when completing an order in your store. Giving buyers control over their delivery schedule is a brilliant way to improve customer experience.
Instead of paying a WordPress developer to add a delivery date and time picker to your checkout page, a plugin can easily get the job done. To be precise, our Delivery & Pickup Scheduling plugin makes it possible to offer delivery scheduling hassle-free.
The tool streamlines your entire shipping process by displaying date and time slots based on predefined operating days and hours. It allows you to decide where to place the date time picker fields and even set up order restrictions for specific days of the week. In general, it offers a great avenue to attract more sales and brand loyalty.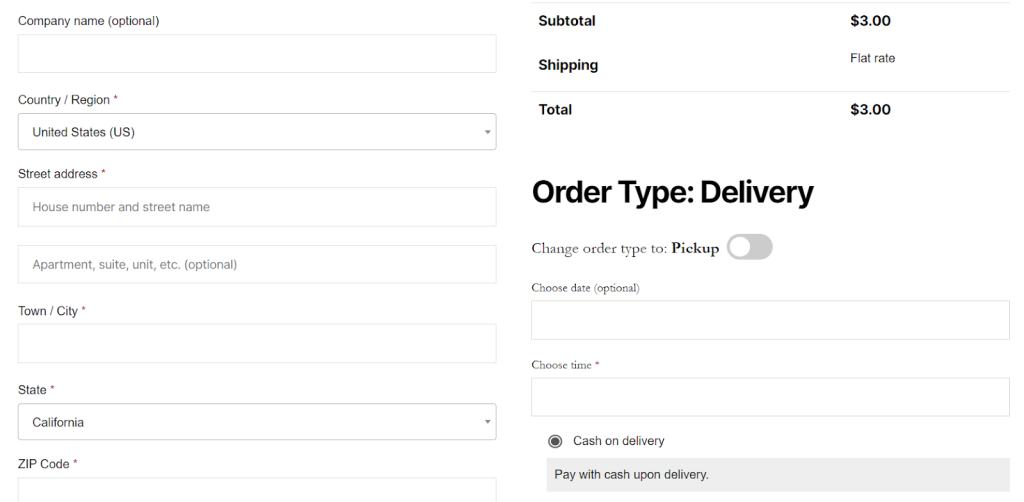 Tip 5: Simplify Order Fulfillment With Cloud Printing
Order processing often involves a lot of printing. From receipts to invoices, packing slips, and shipping labels. Traditionally, you would have to monitor your email inbox or WordPress dashboard to know when there's a new order. What if you could automatically print invoices, package labels, order receipts, etc. immediately after a buyer clicks "Place order"?
Printus, our WooCommerce cloud printing plugin allows you to print orders from your WooCommerce store to any printer in any part of the world. The good thing is it works with virtually any type and brand of printer, including receipt printers, home printers, and office printers. All you need to do is set up the printer and choose your desired trigger. For example, you can either print when the order or invoice payment is completed.
Processing orders this way facilitates faster order fulfillment, reduced human errors, and a more streamlined shipping process.
Ultimately, a well-thought-out shipping strategy can be a game-changer for your WooCommerce store. By incorporating these 5 tips we've shared above, you can stand out in a competitive market and build a loyal customer base that keeps coming back for more.